September Stated Meeting
Posted on August 14, 2013 by in Local Masonic Events, Trestle Board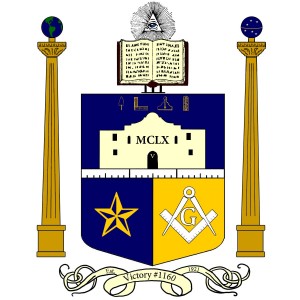 BRETHREN: TAKE NOTICE
TUESDAY SEPTEMBER 10, 2013. STATED MEETING FOR VICTORY LODGE #1160 A.F. & A.M.
Dinner preceding the meeting at 6:00pm. $5.00 for members, free for visitors. Dinner will be served in the adjoining dining room in the Lodge Building.
A Stated meeting of Victory Lodge #1160 will be held in the Masonic Lodge located at the Alzafar Shrine Complex at 7:00pm. The Lodge will be opened in a Master Mason's degree for the purpose of receiving the District Deputy Grand Master. All other business will be transacted in the E.A. degree unless none are present or certain other transactions must take place in another degree. Master of the Lodge Jerry Granato will be presiding over the meeting with special guest: The Honorable Ron Havens DDGM of Masonic District 39-A of the Grand Lodge of Texas.
Lodge Officers: Business attire is required(Coat and Tie).
All other members: Lodge polos and slacks or khakis-no jeans.
UPCOMING EVENTS
Blood Drive
         Victory Lodge will be co-hosting a blood drive with Kelly & Cibolo on September 21 from 9:00am-1:00pm. We will be sending out more information soon about how you can get involved. If you would like to volunteer please email the lodge at contact@victorylodge.org. You can R.S.V.P. on our facebook page here.
Other Events
September 10, 2013- September Stated Meeting and DDGM visit
September 21, 2013- Victory-Cibolo-Kelly Blood Drive
October 8, 2013- October Stated Meeting